Join us for some bite-sized Brum culture
Welcome to our latest project: Brum Tech Tapas is a new event for Birmingham's lovers of tech, arts and culture. Over the years, we've attended and hosted our fair share of events around Birmingham – and online, of course. While we love to swap knowledge with our friends in tech, we felt like there was something missing, because for us, the real inspiration comes from learning about what's happening elsewhere.
Thankfully Brum and the West Midlands is packed with talented people practicing a diverse mix of crafts (we're not known for our 1000 trades for nothing), so we decided to invite people to get together and celebrate the amazing range of work being done in this region.
So join us on 25 March – online for now, but in person later – as our first set of guests share what they are passionate about. We're going to hear from epic street artist Foka Wolf, creative ecosystems researcher, Dr Victoria Barker, Joe Schuppler, the founder of Independent Birmingham and Birmingham's own Poet Laureate Casey Bailey.
Date: Thurs, 25th March
Time: 7pm
Registration:  eventbrite.co.uk/e/brum-tech-tapas-tickets-144621802705
Website: brumtechtapas.co.uk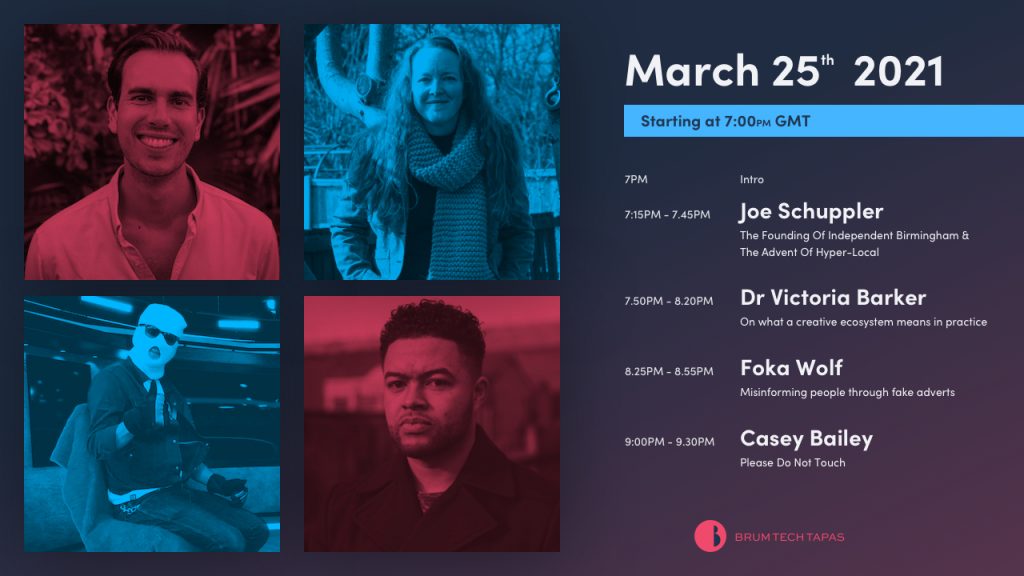 If you'd like to get involved or want to recommend a speaker, contact us here: brumtechtapas.co.uk/#contact